Not yet sure if being an MT is right for you? Consider this...
Imagine yourself jumping out of bed at 6 a.m. bursting with energy and mentally ready to get to work – either at home downstairs in your "jammies" and no make-up, or dressed comfortably and looking professional as you head for that nice medical office a short distance away – early! Imagine liking your career so much that you can't even think of retiring!
Daydreaming? Well this can become the reality of your dreams!
As a medical transcriptionist many options are open to you that don't exist in other professional careers, and being your own boss is a real option you might seriously consider when you've mastered the skills necessary to enjoy the luxury of working from home, having more time for family, AND making a living with the potential to surpass friends and relatives who "beat the bushes" day after day after weary day.
You can get out of that job rut and meet the challenges waiting for you every day as an MT working with state-of-the-art information and professionals concerned with client care.
My book shows you how to develop the skills and mindset you need to become successful, and because I genuinely want you to have the Real Facts, well...
Here's yet a Third preview article >> ASSETS

10 ASSETS You Need To Be A Medical Transcriptionist

To succeed in today's job market you want – no, you absolutely NEED the Best real-world knowledge you can possibly obtain. The information I'm giving you will answer your questions and tell you the Advantages YOU – the aspiring MT – need to succeed.
People often ask me the "voice recognition" question: Will it overtake the work of hands-on MTs? What's the bottom line here?
To give you the latest information, I posed this and other questions to professionals who are in positions to give you expert information about this and other finer points of being an MT, in addition to my personal experiences and views.
I've included answers to questionnaires and interviews by knowledgeable, established and respected MTs that I'm sure you'll find interesting and helpful, and I sincerely thank them for participating with me to bring YOU the most current information available on relevant topics.

Still wondering if this book is for YOUR reference library?
If you're seriously considering medical transcription as a career and aren't totally convinced that my book offers all that I say it does, if the articles, testimonials and BONUSES haven't convinced you, then perhaps being an MT truly isn't for you. It's a serious, respected profession that requires modern skills and a serious attitude, and I'm the first to tell you that it isn't for everybody. But just in case you're still undecided about purchasing my book...
Here's a Fourth preview article >> SECRETS

9 SECRETS You Should Know About Being A Medical Transcriptionist

Are YOU Ready To:
Choose a career that will Make A Positive Difference in your life and the lives of others?
Work From Home and Be Your Own Boss?
Have the Option to work for several clients in various locations?
Set Your Own Hours?
Decide How Much YOU Want To Earn?
Be part of a Respected Professional Community?
Then You Need My Book!
With HOW TO BE A MEDICALTRANSCRIPTIONIST You Get:
Immediate Access to Real Facts & Inside Secrets you NEED to start your career as a Medical Transcriptionist.
Valuable Facts & Secrets for Higher Earning Potential.
Inside Information about what hiring facilities Really want from you and how you can meet and even Surpass their expectations.
Answers to Questionnaires & Interviews from "real world" medical transcriptionists.
Tips & Techniques to Boost Your Skills, Reduce Errors and Make More Money!
Resources to Books, Schools, Training, Websites & Links.
Generous Bonuses you can redeem right inside the book!


Here's what you Learn from HOW TO BE A MEDICAL TRANSCRIPTIONIST:



How To Master Skills & Techniques the successful MT MUST know.
The Key Factor in mastering listening skills.
How to Build transcription speed.
Secrets to working with difficult physicians and dialects.
The Importance of reference materials.
What Outsourcing Companies expect and what it's like to work for them.
What Real MTs Say about Medical Transcription as a career.
---
PLUS... You Get 6 BONUSES!
| | |
| --- | --- |
| Bonus #1 | Margery Hinman, CEO MTACC, has magnanimously offered $800 OFF the Full Tuition Price of their Online Interactive MT course if you enroll in the Next 30 days! Redeemable Coupon available only inside the book and manual! |
| Bonus #2 | At-Home Professions has generously offered $100 OFF the first course of their Comprehensive Medical Transcription course with the coupon located available only inside the book and manual! |
| Bonus #3 | MTDaily owner Mary Morken, in strong support of all MTs has graciously donated a 1-month FREE Introductory Subscription to her site available only inside the book and manual! |
| Bonus #4 | Meditec generously donates a coupon for FREE on-line access available only inside the book and manual! |
| Bonus #5 | Access to Articles, Interviews & Information right inside the book through Interactive Websites & Links! |
| Bonus #6 | Unlimited Email Support From Me in your quest to be a Successful Medical Transcriptionist. |
HOW CAN YOU BUY THIS DYNAMIC INFORMATION?
HOW TO BE A MEDICAL TRANSCRIPTIONIST: A Beginner's Guide to Real Facts and Inside Secrets that Lead to a Successful Career is offered for Instant Access as an Ebook and as a Soft Cover Manual, both with redeemable BONUSES you can redeem right away! Get Great, No-nonsense information to help YOU begin or continue a career as a medical transcriptionist.
Plus! You have my 100% GUARANTEE for 1 FULL YEAR from date of purchase that HOW TO BE A MEDICAL TRANSCRIPTIONIST will be a definite asset to your MT career.
You simply can't lose with my 100% 1 Year Money-Back Guarantee!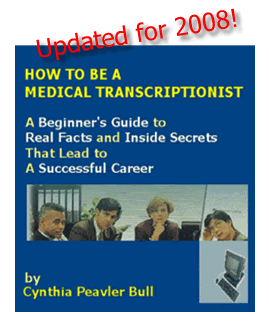 Yes, Cynthia! I want to order HTBAMT and begin my MT career today!
$29.00 Ebook (Instant Access)
$39.00 Manual (Includes S&H)
Prefer to Order by Mail or Fax?
Simply download the PDF Form below and follow the directions to secure your order.
Click Here to Download PDF ORDER FORM
Your Online Purchase is Safe by Secure Server. Once your order is processed, you will go immediately to a special page where you can download and begin reading all the valuable information in YOUR ebook!
Special NEW BOOK Offer at 50% OFF Limited Time Only!
Walking with the Wise Entrepreneur, featuring "Do YOU Have The Entrepreneurial Spirit?" by Cynthia Peavler Bull
Announcing! Mentors™ latest release in its inspirational best-selling book series Walking with the Wise. Presenting...

Walking with the Wise Entrepreneur

WWTWE is truly the next Chicken Soup for the Soul phenomenon with a stellar contributor list of business and media giants:

John Assaraf, Chuck Norris, Donald Trump, T. Harv Eker, Suze Orman, Dan Kennedy, Deepak Chopra, Brian Tracy.

And That's Just The Cover!

Articles by Linda Forsythe (Mentors™ founder), Zig Ziglar, Wayne Dyer, Adam Ginsberg, Stephen Pierce, many other well-known and respected leaders in their fields plus "YOURS TRULY" unite in this anticipated record-setting edition.
What does WWTWE have to do with medical transcription?
If you're interested in being successful, then every page of this spectacular book will direct you to a path of Success. Learn from inspirational mentors, millionaires and billionaires how to change your thinking, set goals, and overcome obstacles.
"Words of Wisdom" fill every page as they share personal experiences of how to develop strategies to prosper in your business and in your life.
A product is just another product until a creative mind accomplishes the impossible. © 2005 CYN-R-JE Consultants, LLC™
For a Limited Time Only you can get this exceptionally spectacular NEW edition in the Walking with the Wise series – a $16.95 value – and SAVE 50% off the regular price when you order HTBAMT.
Once all issues are gone NO MORE will be printed – EVER.

BUT... the knowledge, wisdom and inspiration of these noted contributors will last forever.
Order YOUR Special Edition of Walking with the Wise Entrepreneur – NOW! click here to order....
---
Make Big Profits on Ebay.
by Jacquelyn Lynn & Charlene Davis

For 25 years, Entrepreneur magazine has been advising people on how to start their own businesses. Now, Entrepreneur focuses that expertise on the hottest new way to start a business: on eBay!

Buy the book and go directly to page 152 to learn how Cynthia started her Internet business in this interview with co-author Charlene Davis.
---
My sincerest wishes for YOUR success! If I can be of any help along your path to becoming a medical transcriptionist, before or after a purchase or AT ANY TIME, please contact me .
To Your Success Always,

Cynthia Peavler Bull
P.S. If you want to know Facts & Secrets of how to Work at Home or Office and Maximize Your Earning Potential in a professional career as a Medical Transcriptionist, then you need to read HOW TO BE A MEDICAL TRANSCRIPTIONIST: A Beginner's Guide to Real Facts and Inside Secrets that Lead to a Successful Career. Click Here to Order Now!
P.P.S. Why wait to start learning what you need to know to begin Earning the Salary YOU Want when HOW TO BE A MEDICAL TRANSCRIPTIONIST gives you the information in less than 80 pages? To order and start reading now Click Here!
P.P.P.S. HOW TO BE A MEDICAL TRANSCRIPTIONIST is offered for Instant Access as an Ebook and as a Soft Cover Manual, both with redeemable BONUSES right inside. Whether you choose the Ebook or the Manual, you'll get the same great, no-nonsense information to help you begin a career as a medical transcriptionist.
P.P.P.P.S. Your purchase is backed by my NO RISK 100% GUARANTEE for 1 FULL YEAR in keeping with my policy NO QUESTIONS ASKED! Order Now!